'Baller': Saliba and Odegaard react to Trossard's performance vs Fulham
|
Arsenal duo William Saliba and Martin Odegaard reacted to the performance of Leandro Trossard following the 3-0 Premier League win over Fulham on Sunday.
The Gunners dominated the proceedings from the off against the Cottagers and they were denied an early goal due to a marginal offside decision on Gabriel Martinelli.
However, this only spurred them to create more chances and they ended up scoring three goals before the half-time interval.
Trossard provided the assist for each of those and could have easily had another. Granit Xhaka was put through on goal but he ended up passing the ball to Bernd Leno.
Meanwhile, the Belgian also squandered a couple of chances to find the back of the net but regardless of this, he was undoubtedly the Gunners' man of the match.
Following the game, Saliba and Odegaard were quick to praise Trossard in his Instagram post describing him as a 'baller'.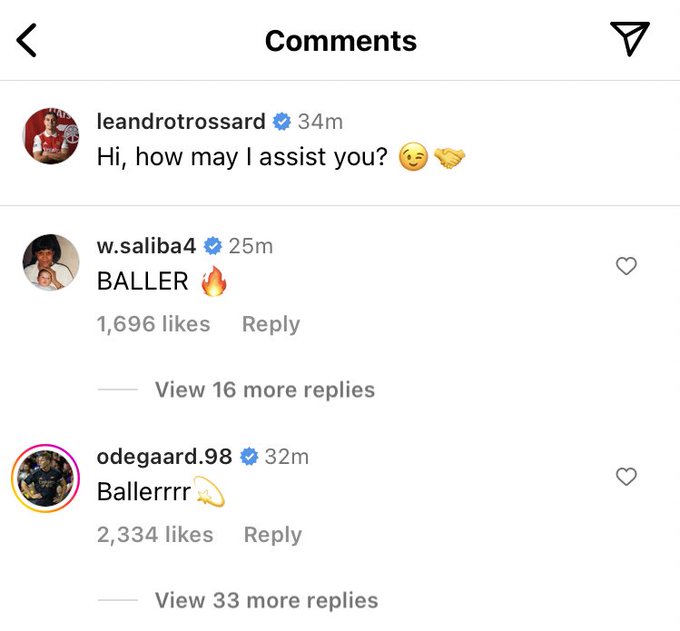 Trossard was not the Gunners' main attacking target for January but he has certainly proved to be a fantastic acquisition.
The Belgian has six goal contributions to his name and has impressed in the false number nine role lately.
Gabriel Jesus is back after his knee surgery but as Mikel Arteta said, the Brazilian will need to earn his place back.
With Trossard, Gabriel Martinelli, Bukayo Saka and Martin Odegaard in fine form, Jesus won't be gifted a starting role.
Arsenal have reclaimed their five-point lead at the top of the Premier League after the derby win at Craven Cottage.
With Manchester City not playing next weekend due to their FA Cup commitments, the Gunners have an excellent chance to go eight points clear at the summit before the international break. This would definitely provide the club with a psychological boost.
Stats from Transfermarkt.com